Voor 12:00 uur besteld, zelfde dag verzonden -
Gratis verzenden (NL) boven €80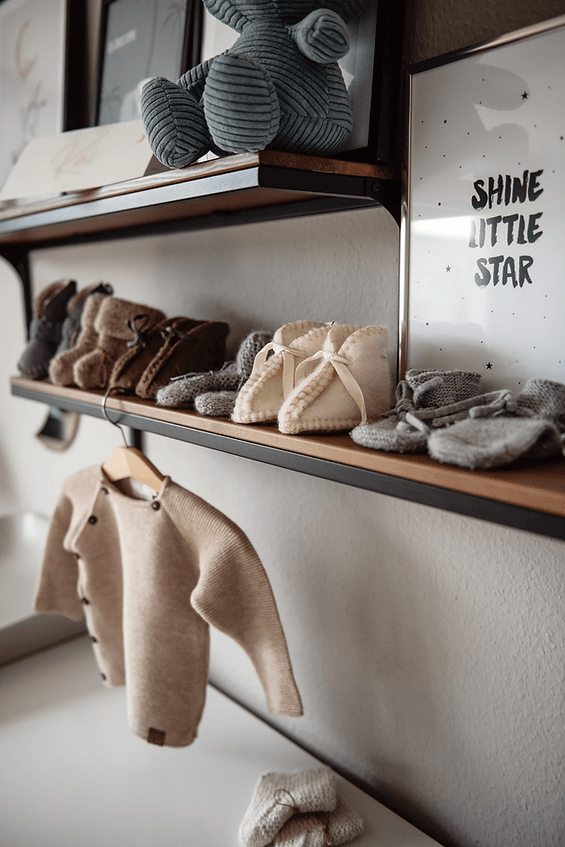 Wollen Babykleding
Wollen babykleding van de hoogste kwaliteit
Als je op zoek bent naar wollen babykleding ben je bij WOOLSKINS aan het juiste adres! Hier kun je namelijk verschillende soorten ecologische wollen kleding voor je baby kopen. Of je nou op zoek bent naar een wollen muts voor je baby of naar babyslofjes van wol. Wij bieden een uitgebreide collectie van hoogwaardig materiaal aan. Met onze kleding heeft je baby het tijdens de koudere winterdagen nooit meer koud.
Woolskins is dé specialist in ecologische lamsvachten en wolproducten. Wij verkopen wollen babykleding, speciaal bedoeld voor baby's, mama's, gezondheid en comfort.
Benieuwd naar ons aanbod? Bekijk deze gerust in onze webwinkel en plaats je bestelling! Neem bij vragen gerust contact op via ons contactformulier of WhatsApp: 020 20 44 557.
​Babykleding van baby-alpacawol en zuiver scheerwol
Alle kleding die je kunt kopen bij WOOLSKINS is gemaakt van zuiver Scheerwol of  baby-alpacawol. Er wordt gebruik gemaakt van alpaca wol, omdat dit nóg zachter is dan merino wol. Daarnaast isoleert alpaca wol veel beter dan normaal wol. Hierdoor kan je baby de lichaamstemperatuur beter stabiel houden.
​De wollen babykleding is daarnaast veel zachter dan merino wollen kleding. Omdat deze ook thermisch is zorgt dit ervoor dat je baby het niet te koud of te warm krijgt. Tot slot glanst alpaca wol meer dan normaal wol, dus de kleding van WOOLSKINS oogt erg luxe!
Voordelen van wollen babykleding​
Comfortabel
Zacht
Warm
Sterk
Waterafstotend
Hypoallergeen
Thermisch
Lage 'jeukfactor'
​Uitgebreid assortiment aan wollen vestjes en andere baby kleding.
Op zoek naar een wollen broekje voor je baby, een wollen overall of een wollen vestje? WOOLSKINS heeft een groot assortiment aan wollen babykleding. Onze kleding houdt kindje goed op temperatuur. Ook is deze mooi, luxe en ook nog eens heerlijk comfortabel zit.
​Wist je dat schapenvachten heel gezond zijn voor baby's? Baby's die de eerste drie maanden slapen op een schapenvacht hebben op 6-jarige leeftijd 79% minder kans op astma en allergieën.
Baby vestje van 100% alpaca wol
Een van de wollen babykleding artikelen die wij aanbieden zijn onze vestjes. Deze zijn verkrijgbaar in diverse kleuren en geschikt voor baby's van 3 tot 6 maanden oud. De vestjes hebben een lange mouw, zijn erg licht en lekker zacht. Een minimalistische stijl die bij iedere baby leuk staat!
​Broekjes, overall broekjes en knuffelkussens
Verder zijn ook de leukste broekjes bij ons verkrijgbaar. De broekjes zijn niet slijtgevoelig en voor de volle 100% organisch. Ook krimpen ze niet na het wassen.
​De broekjes bevatten koorden of leren bandjes. Daarmee kun je zorgen dat de kleding lekker zit bij je baby. Maak de outfit af met een knuffelkussen. Uiteraard ook van 100% wol!
​Wollen muts voor je baby
Tijdens de winterse dagen is het buiten natuurlijk erg koud. Deze winter heeft je baby het niet koud dankzij de wollen baby mutsjes van WOOLSKINS! Deze mutsjes zijn gemaakt van zacht baby-alpacawol. Deze zorgen er voor dat je baby een heerlijk warm hoofdje heeft. Dankzij de koorden bij de nek blijft het wollen mutsje goed op zijn plek zitten.
​Alpaca wol slofjes voor baby's
Naast een wollen baby muts, komen wollen slofjes voor je baby ook goed van pas! De slofjes zorgen niet alleen dat je kindje tijdens koude dagen warme voetjes heeft. Ook zorgen ze er tijdens warme dagen ook voor dat de voetjes van je baby niet te warm worden. Een win-win situatie.
WOOLSKINS heeft diverse slofjes voor baby's in haar babykleding collectie. Wollen slofjes van gewoon wol en babyslofjes die gemaakt zijn van baby-alpaca wol. Het baby-alpacawol bestaat uit de fijnste haren van een volwassen alpaca. Dankzij deze fijne haren zitten de wollen baby slofjes heerlijk zacht en zijn ze ook nog eens erg licht.
Zekerheden van wollen babykleding van Woolskins
Babykleding van de beste kwaliteit
De meest zachte schapenvachten
The eye for detail of the employees of WOOLSKINS
Luxe verpakking met een persoonlijke boodschap
Wollen babykleding kopen doe je bij de specialist
Wil je de heerlijk zachte wollen babykleding zoals mutsjes of sokken voor je baby bestellen bij WOOLSKINS? Neem dan eens een kijkje in de webshop. Bekijk ons aanbod en laat je inspireren door onze heerlijk zachte wollen producten.​
Wil je meer weten over onze producten? Neem dan gerust contact op! Je kunt ook contact opnemen via de whatsapp- of de belbutton. We staan je graag te woord. Bekijk ook eens onze FAQ.