Ordered before 12:00, shipped the same day.
Free shipping from €80 (NL)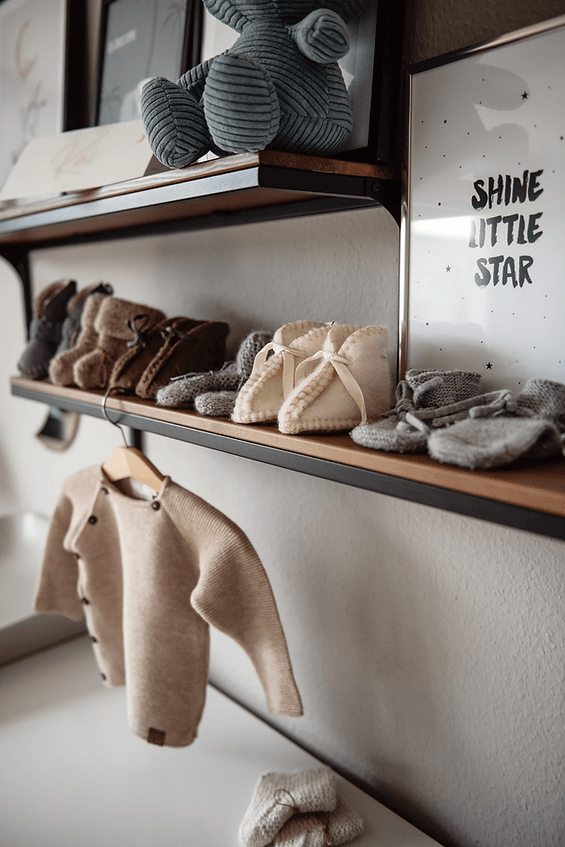 Wool Baby Clothes
Woolen baby clothes of the highest quality
If you are looking for woolen baby clothes, you've come to the right place at WOOLSKINS! Here you can buy different types of ecological woolen clothing for your baby. Whether you are looking for a wool hat for your baby or baby slippers made of wool. We offer an extensive collection of high-quality material. With our clothes, your baby will never be cold again during the colder winter days.
Woolskins is the specialist in ecological lambskins and wool products. We sell wool baby clothesg, specially designed for babies, moms, health and comfort.
Curious about our offer? Feel free to view these in our webshop and place your order! If you have any questions, feel free to contact us via our contact form or WhatsApp: 020 20 44 557.
​Baby clothes made of baby alpaca wool and pure virgin wool
All clothing that you can buy at WOOLSKINS is made of pure virgin wool or baby alpaca wool. Alpaca wool is used, because it is even softer than merino wool. In addition, alpaca wool insulates much better than normal wool. This allows your baby to keep the body temperature more stable.
​The woolen baby clothes are also much softer than merino woolen clothes. Because it is also thermal, this ensures that your baby does not get too cold or too hot. Finally, alpaca wool shines more than normal wool, so the clothing from WOOLSKINS looks very luxurious!
Advantages of woolen baby clothes​
Comfortable
Soft
Hot
Strong
Water repellent
Hypoallergenic
thermal
Low 'itch factor'
​Extensive range of wool cardigans and other baby clothes.
Looking for wool trousers for your baby, wool overalls or a wool cardigan? WOOLSKINS has a wide range of woolen baby clothes. Our clothes keep baby warm. It is also beautiful, luxurious and also wonderfully comfortable.
​Did you know that sheepskins are very healthy for babies? Babies who sleep on a sheepskin for the first three months have a lower risk of asthma and allergies at the age of 6 years.
Baby cardigan of 100% alpaca wool
One of the woolen baby clothing items that we offer are our cardigans. These are available in various colors and suitable for babies from 3 to 6 months old. The cardigans have long sleeves, are very light and nice and soft. A minimalist style that looks great on every baby!
​Pants, overall pants and cuddly pillows
Furthermore, the nicest pants are also available with us. The pants are not sensitive to wear and for the full 100% organic. They also do not shrink after washing.
​The bottoms contain cords or leather straps. This way you can ensure that the clothes fit your baby comfortably. Complete the outfit with a cuddly pillow. Of course also made of 100% wool!
​Wool hat for your baby
During the winter days it is of course very cold outside. Your baby won't be cold this winter thanks to the woolen baby hats from WOOLSKINS! These hats are made of soft baby alpaca wool. These ensure that your baby has a wonderfully warm head. Thanks to the cords at the neck, the wool hat stays in place.
​Alpaca wool slippers for babies
In addition to a woolen baby hat, woolen slippers for your baby also come in handy! The slippers not only ensure that your child has warm feet during cold days. They also ensure that your baby's feet do not get too hot during hot days. A win-win situation.
WOOLSKINS has various slippers for babies in its baby clothing collection. Wool slippers made of ordinary wool and baby slippers made of baby alpaca wool. The baby alpaca wool consists of the finest hairs of an adult alpaca. Thanks to these fine hairs, the woolen baby slippers are wonderfully soft and they are also very light.
Certainties of woolen baby clothes from Woolskins
Baby clothes of the best quality
The softest sheepskins
The eye for detail of the employees of WOOLSKINS
Luxury packaging with a personal message
You buy woolen baby clothes from the specialist
Would you like to order wonderfully soft woolen baby clothes such as hats or socks for your baby from WOOLSKINS? Then take a look at the webshop. View our range and be inspired by our wonderfully soft woolen products.​
Do you want to know more about our products? Then feel free to contact us! You can also contact us via the whatsapp or the call button. We are happy to talk to you. Also check out our FAQ.