Je wilt de beste kwaliteit voor je baby en je wilt zo goed mogelijk geïnformeerd worden over het product en de herkomst.
Onze vachten zijn afkomstig van kleinschalige schapenhouders in Europa, waarbij de Europese regelgeving met betrekking tot dierenwelzijn en millieuwetgeving (REACH-voorschriften) nauwlettend worden nageleefd. Alle vachten worden met de grootste zorg door ons geselecteerd en bewerkt. Hygiëne en kwaliteit staan hierbij hoog in het vaandel.
Onze Baby Basic wolproducten zijn speciaal door ons geselecteerd met oog voor kwaliteit en comfort. We werken nauw samen met Alwero, deze producten worden naar onze wens aangepast en hebben het Woolskins Series label. Ook hebben ze een aantal keurmerken waaronder b.v. het 'Woolmark' en het 'Safe for Children' keur. Al onze producten zijn 100% wol en worden in Europa geproduceerd.
Tip: Gebruik het vachtje al tijdens je zwangerschap. Zo kan je lichaam lekker ontspannen en komen alvast alle vertrouwde geurtjes van mama in de vacht terecht. Wel zo'n veilig en vertouwd gevoel als je net op de wereld komt.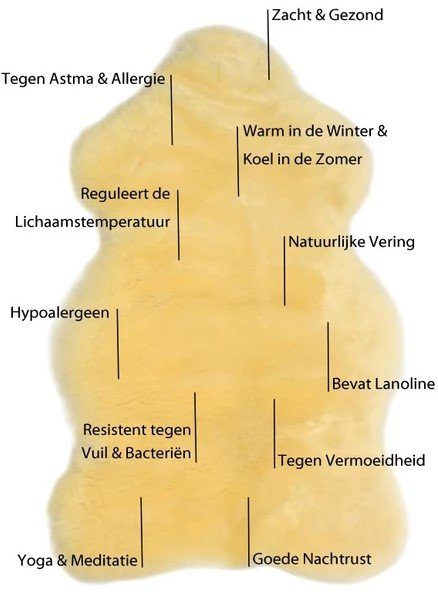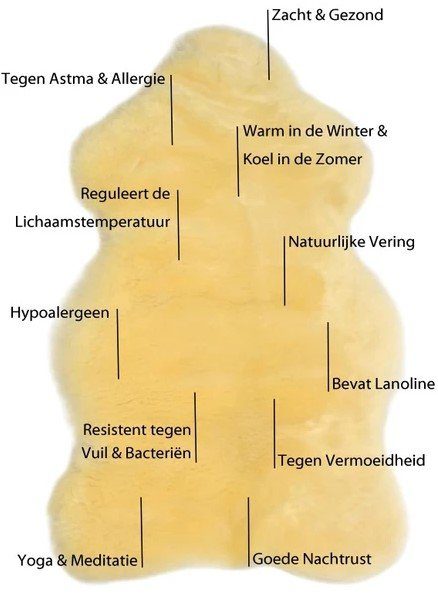 In short about our sheepskins for baby's…
We like to keep our sheepskins short! They are specially shaved to a short length so that no long hairs can get into the mouth or eyes or the nails get stuck in them.
​
All our Medicinal (golden yellow) sheepskins are machine washable & dryable and all our natural white furs are not.
The best way to maintain your sheepskin is to beat it out regularly, air it outside and brush it briefly. This way you will keep and keep the coat beautiful.
We recommend waiting as long as possible before washing your coat so that all the good qualities of the coat remain in it. Usually, in the event of a minor accident, just wipe with a damp washcloth.
If you want to wash your sheepskin, you can only do that with our Medicinal (golden yellow) sheepskins at a 30 degrees wool-delicate wash program. We have a special ecological wool detergent with lanolin for this. You can also dry our Medical Grade sheepskins at a -low- temperature in the dryer. Washing sheepskins remains your own responsibility.
Our sheepskins and wool products are Ecological. In their processing and handling, the environment, animal and plant life are taken into account. They are safe for children and adults and are biodegradable, or organic.
Alle middelen die worden gebruikt bij het looien en afwerken van onze vachten voldoen aan essentiële EU-richtlijnen met betrekking tot dierenwelzijn en het behoud en de bescherming van het milieu (ecologisch). Onze vachten worden gelooid volgens de REACH-voorschriften. Er worden geen! AZO-kleurstoffen gebruikt in onze vachten of de productie hiervan.
Woolskins, a fair choice. You feel the difference.
For example, did you know that wool…
Breathes and regulates body temperature.
Wolvezels ademen en hebben de eigenschap op te treden als een natuurlijke thermostaat die de lichaamstemperatuur reguleert. Dit helpt je baby in het onderhouden van een stabiele temperatuur en houdt je baby droog en comfortabel. Het doet dit 'dynamisch', wat betekent dat het gebeurt als het nodig is, en niet als het niet nodig is. Warm in de winter en koel in de zomer.
Contains lanolin.
This substance is also found in human skin and is known for its disinfecting effect. It can have a healing effect on sensitive and / or irritated skin.
The risk of asthma decreases.
Na recentelijk onderzoek blijkt dat schapenvachten heel gezond zijn voor baby's. Het onderzoek stelt dat wanneer kinderen in de eerste drie maanden van hun leven slapen op een schapenvacht, ze op 6-jarige leeftijd 79% minder kans op astma en allergieën hebben (klik voor artikel). Dit komt door de microben die van nature aanwezig zijn in de vacht.
Wool hypoallergenic is.
Because no climate can develop in wool in which fungi, dust mites or bacteria can thrive, wool is ideally suited for people with allergies.
Zelfreinigend en resistent is tegen bacteriën.
Een schapenvacht is resistent tegen vuil en bacteriën en is zelfs zelfreinigend. Dit komt door de structuur van de vezel, die eiwit als belangrijkste bestanddeel bevat. Deze treedt actief op tegen bacteriën en virussen die zo niet die niet de kans krijgen zich te vermenigvuldigen. Meer informatie over het onderhoud van je vacht klik je hier.
Supports and relieves
Een schapenvacht help tegen lichamelijke vermoeidheid. Volgens wetenschappers is dit te danken aan de 3-dimensionaal opgebouwde vezels die een natuurlijke vering en zachtheid geeft. Deze ondersteunt ons lichaam en verlicht pijn, spierpijn en vermoeidheid.
Een droge omgeving creëert.
Het is hét hulpmiddel voor een goede nachtrust en lig comfort. Het helpt de ongemakken te verlichten van mensen met artritis (ontstoken gewrichten), heup problemen, spit, hernia en andere kwalen? De omgeving blijft droog en verlicht de pijn die direct veroorzaakt wordt door een vochtige omgeving.
Ideal is for yoga and meditation.
Een wollen yogamat of schapenvacht is ideaal voor het beoefenen van yoga en meditatie? Het is erg comfortabel en reguleert warmte en vocht. Er zijn zelfs yogi's die een schapenvacht adviseren, niet alleen vanwege de perfecte afmeting maar ook omdat het je eigen magnetisch veld (je aura) isoleert en de magnetische straling van de aarde neutraliseert. Dit helpt je enorm in het meditatieve proces en houdt je lichaam in balans.
Promotes blood circulation.
It retains body heat and promotes blood circulation. It spares the pressure points of the body, preventing pressure ulcers (bedsores) that often affect older, injured or long lying / sitting people.
And finally…
​
Woolskins verkoopt geen vachten van schapen waarbij Mulesing is toegepast! Bij Europese schapen (in tegenstelling tot bijv. Australische schapen) wordt geen Mulesing toegepast omdat in Europa de parasiet, waardoor boeren Mulesing toepassen, niet voorkomt.
​
Wij hebben een zeer uitgebreid assortiment Baby-Care lamsvachten, met zorg verpakt, direct leverbaar uit eigen voorraad. We zien je bestelling graag tegemoet!