You want the best quality for your baby and you want to be informed as well as possible about the product and its origin.
Sheepskins
Our sheepskins come from small-scale sheep farmers in Europe, where European regulations regarding animal welfare and environmental legislation (REACH regulations) are closely observed. All sheepskins are selected and processed by us with the greatest care. Hygiene and quality are of paramount importance here.
Tip: Use the sheepskin during your pregnancy. This way your body can relax and all the familiar scents of mom end up in the wool. Such a safe and trusted feeling when you just came into the world.
Wool products, Woolskins made by Alwero
After years of successful cooperation with Alwero, we can proudly announce that we can carry Alwero under our own Woolskins label.
This way you still get the best quality of Alwero (with Safe for Children & Woolmark, for example) combined with the nicest and unique products/designs of Woolskins.
What will change then? Not so much! The quality, fabrics and colors remain the same, only there is a larger choice of unique products that Woolskins believes can help to distinguish themselves and that are a good addition to the layette. Everything produced in Europe!
You can recognize our products by our Woolskins label and the washing label indicates that they have been produced by Alwero.
In this way we join forces with great enthusiasm for a sustainable, natural and as comfortable as possible product for your child.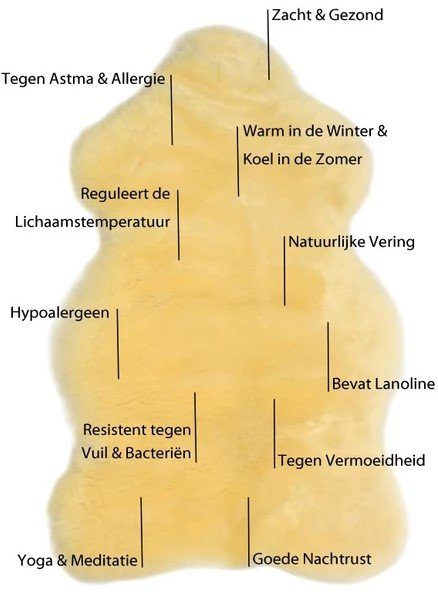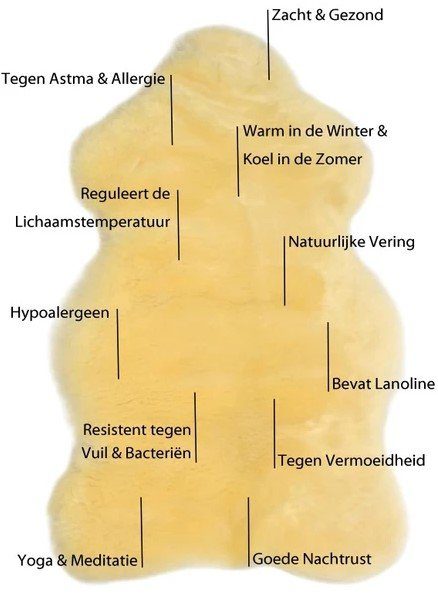 What is the best way to wash wool.
You can enjoy your wool product for years if you maintain it properly. You don't have to wash wool very often, it is naturally anti-bacterial. A good night of hanging out also ensures that odors often disappear. Still, it's a good idea to wash occasionally.
Hand wash
As a rule, it is recommended to wash wool by hand. But this certainly also has risks. Wool should be washed at 30 degrees, which feels quite cold. Few people check the water with a thermometer. Washing too hot results in shrinkage. In addition, people often use too much detergent when washing by hand, and they are less able to rinse it out. Wringing too hard is also a risk.
Correct temperature
As stated above: you wash wool at 30 degrees, and certainly not hotter. But also not colder! A too cold temperature can frighten the fibers and this can also cause shrinkage.
In the machine
It is safest to wash wool in the machine, on the wool wash program. Make sure the centrifuge is not set higher than 600 rpm. Here again: a high speed causes your woolen clothing to shrink. Also important: wash wool with wool. Do not include jeans or clothing with zippers.
Wool detergent
Wool naturally contains a type of fat, lanolin. This gives the wool a soft protective layer against dirt and retains heat for a long time when it is cold. But it also ensures that the wool remains elastic and wears less quickly. By using a special wool detergent that contains lanolin, you can continue to enjoy these properties. In addition, special wool detergents never contain bleach, which is disastrous for wool.


In short about our sheepskins for baby's…
We like to keep the wool pile of our sheepskins short! They are specially shaved to a short length so that no long hairs can get into the mouth or eyes or the nails get stuck in them.
​
All our Medicinal (golden yellow) sheepskins are machine washable & dryable and all our natural white furs are not.
The best way to maintain your sheepskin is to beat it out regularly, air it outside and brush it briefly. This way you will keep and keep the sheepskin beautiful.
We recommend waiting as long as possible before washing your sheepskin so that all the good qualities of the wool remain in it. Usually, in the event of a minor accident, just wipe with a damp washcloth.
The best way to wash my (medicinal) sheepskin
If you want to wash your sheepskin, you can only do that with our Medicinal (golden yellow) sheepskins at a 30 degrees wool-delicate wash program. We have a special ecological wool detergent with lanolin for this. You can also dry our Medical Grade sheepskins at a -low- temperature in the dryer. Washing sheepskins remains your own responsibility.
Washing instructions:
1.Place the fur in the washing machine with 50ml of Eco Wool Wash in the soap drawer.
2.Wash the coat at 30 C wool/delicate program (short cycles).
3. Lay the fur with the leather side on a towel and roll it up. Press firmly so that the remaining water absorbs into the towel as much as possible.
4.Now let the coat dry on a flat surface or tumble dry on a low – NOT HOT! – temperature.
5. Allow the coat to dry a bit after this and gently stretch it into shape. Then brush again if necessary.
After washing, the leather side may feel a little stiffer. This will become soft again during use.
It is best to use our for washing washable sheepskins Eco Wool Wash wool detergent. This ecological detergent, based on olive oil, has a grease-maintaining effect and contains lanolin to maintain the healthy properties and suppleness of the coat.
Our sheepskins and wool products are Ecological. In their processing and handling, the environment, animal and plant life are taken into account. They are safe for children and adults and are biodegradable, or organic.
All resources used in the tanning and finishing of our pelts comply with essential EU directives related to animal welfare and the preservation and protection of the environment (ecological). Our furs are tanned according to REACH regulations. There won't be any! AZO dyes used in our coats or their production.
Woolskins, a fair choice. You feel the difference.
For example, did you know that wool…
Breathes and regulates body temperature.
Wool fibers breathe and have the property of acting as a natural thermostat that regulates body temperature. This helps your baby maintain a stable temperature and keeps your baby dry and comfortable. It does this "dynamically," meaning it happens when it's needed, not when it's not needed. Warm in winter and cool in summer.
Contains lanolin.
This substance is also found in human skin and is known for its disinfecting effect. It can have a healing effect on sensitive and / or irritated skin.
The risk of asthma decreases.
Recent research shows that sheepskins are very healthy for babies. The research states that when children sleep on a sheepskin in the first three months of their life, they are 79% less likely to develop asthma and allergies at the age of 6 (click for article). This is due to the microbes naturally present in the fur.
Wool hypoallergenic is.
Because no climate can develop in wool in which fungi, dust mites or bacteria can thrive, wool is ideally suited for people with allergies.
Self-cleaning and resistant to bacteria.
A sheepskin is resistant to dirt and bacteria and is even self-cleaning. This is due to the structure of the fiber, which contains protein as the main component. This acts actively against bacteria and viruses that do not get the chance to multiply. Click here for more information about caring for your coat.
Supports and relieves
A sheepskin helps against physical fatigue. According to scientists, this is due to the 3-dimensionally constructed fibers that give a natural springiness and softness. This supports our body and relieves pain, muscle pain and fatigue.
Creates a dry environment.
It is the tool for a good night's sleep and comfort. It helps relieve the discomfort of people with arthritis (inflamed joints), hip problems, lumbago, hernia and other ailments? The environment remains dry and relieves the pain directly caused by a humid environment.
Ideal is for yoga and meditation.
A woolen yoga mat or sheepskin is ideal for practicing yoga and meditation? It is very comfortable and regulates heat and moisture. There are even yogis who advise a sheepskin, not only because of its perfect size, but also because it isolates your own magnetic field (your aura) and neutralizes the magnetic radiation of the earth. This greatly helps you in the meditative process and keeps your body in balance.
Promotes blood circulation.
It retains body heat and promotes blood circulation. It spares the pressure points of the body, preventing pressure ulcers (bedsores) that often affect older, injured or long lying / sitting people.
And finally…
​
Woolskins does not sell mulesed sheep skins! Mulesing is not applied to European sheep (unlike, for example, Australian sheep) because the parasite, which causes farmers to use Mulesing, does not occur in Europe.
​
We have a very extensive range of Baby-Care lambskins, packaged with care, immediately available from our own stock. We look forward to receiving your order!