You want the best quality for your baby and you want to be as well informed as possible about the product and its origin.
Our sheepskins come from small-scale sheep farmers in Europe, with strict compliance with European animal welfare and environmental legislation (REACH regulations). All furs are selected and processed by us with the greatest care. Hygiene and quality are of paramount importance here.
Our Baby Basic wool products are specially selected by us with an eye for quality and comfort. We work closely with Alwero, these products are adapted to our wishes and have the Woolskins Series label. They also have a number of quality marks including e.g. the 'Woolmark' and the 'Safe for Children' label. All our products are 100% wool and are produced in Europe.
Tip: Use our sheepskin during your pregnancy. This way your body can relax and all the familiar smells come from mama in the coat. Such a safe feeling when you were just born. Woolskins, a fair choice. You feel the difference!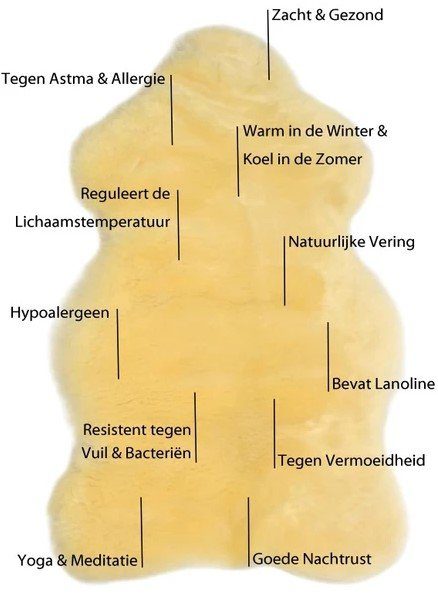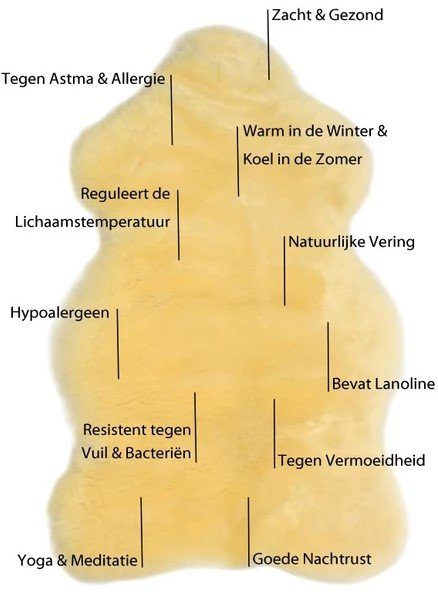 In short about our sheepskins for baby's…
We like to keep our sheepskins short! They are specially shaved to a short length so that no long hairs can get into the mouth or eyes or the nails get stuck in them.
​
All our Medicinal (golden yellow) sheepskins are machine washable & dryable and all our natural white furs are not.
The best way to maintain your sheepskin is to beat it out regularly, air it outside and brush it briefly. This way you will keep and keep the coat beautiful.
We recommend waiting as long as possible before washing your coat so that all the good qualities of the coat remain in it. Usually, in the event of a minor accident, just wipe with a damp washcloth.
If you want to wash your sheepskin, you can only do that with our Medicinal (golden yellow) sheepskins at a 30 degrees wool-delicate wash program. We have a special ecological wool detergent with lanolin for this. You can also dry our Medical Grade sheepskins at a -low- temperature in the dryer. Washing sheepskins remains your own responsibility.
Our sheepskins and wool products are Ecological. In their processing and handling, the environment, animal and plant life are taken into account. They are safe for children and adults and are biodegradable, or organic.


All agents used in the tanning and finishing of our sheepskins comply with essential EU guidelines regarding animal welfare and the preservation and protection of the environment (ecological). Our sheepskins are tanned according to REACH regulations. There will be none! AZO dyes used in our sheepskins or their production.


Woolskins, a fair choice. You feel the difference.
For example, did you know that wool…
Breathes and regulates body temperature.
Wool fibers breathe and have the property of acting as a natural thermostat that regulates body temperature? This will help your baby maintain a stable temperature and keep your baby dry and comfortable. Warm in the winter and cool in the summer.
Contains lanolin.
This substance is also found in human skin and is known for its disinfecting effect. It can have a healing effect on sensitive and / or irritated skin.
The risk of asthma decreases.
Recent research shows that sheepskins are very healthy for babies? The article states that when children sleep on sheepskin for the first three months of life, they are 79% less likely to develop allergies by age 6.
Wool hypoallergenic is.
Because no climate can develop in wool in which fungi, dust mites or bacteria can thrive, wool is ideally suited for people with allergies.
Self-cleaning and resistant to bacteria.
Wool is naturally self-cleaning. This is due to the structure of the fiber, which contains protein as the main component. It actively acts against bacteria and viruses that, if not, do not get the chance to multiply. There is also lanolin in wool, lanolin is also known for its disinfecting effect.
Supports and relieves
Does it help with fatigue. This is due to the 3-dimensional fibers that give a natural softness and softness. It supports our body and relieves pain, muscle aches and fatigue.
Creates a dry environment.
It is the aid for a good night's sleep and lying comfort. It helps to relieve the discomfort of people with arthritis (inflamed joints), hip problems, lumbago, hernia and other ailments? The environment remains dry and relieves the pain directly caused by a moist environment.
Ideal is for yoga and meditation.
Is a sheepskin ideal for practicing yoga and meditation? It is very comfortable and regulates heat and moisture. There are even yogis who recommend sheepskin, not only because of its perfect size but also because it insulates your own magnetic field (your aura) and neutralizes the magnetic radiation of the earth. This helps you immensely in the meditative process and keeps your body in balance.
Promotes blood circulation.
It retains body heat and promotes blood circulation. It spares the pressure points of the body, preventing pressure ulcers (bedsores) that often affect older, injured or long lying / sitting people.
And finally…
​
Woolskins does not sell sheep's furs with Mulesing applied! In European sheep (in contrast to eg Australian sheep) no mulesing is used because the parasite, which causes farmers to use mulesing, does not occur in Europe.
​
We have a very extensive range of Baby-Care sheepskins, packaged with care, and immediately available from our own stock. We look forward to receiving your order!