Ordered before 12:00, shipped the same day
Free shipping from €80 (NL)

A sheepskin or a wool baby suit: you can touch them in the Woolskins showroom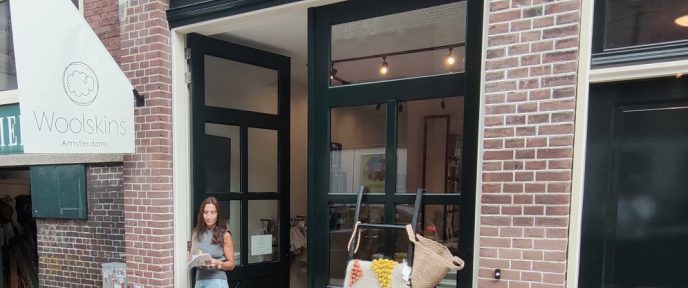 We are very grateful for this beautiful item in Het Parool.
Read the item below
New shops, restaurants and cafes open in Amsterdam every day. You can read about it in our Just Open section. Today: see and feel sustainable wool products for babies and children at the Woolskins showroom.
Susanne HaverkortOctober 5, 2023, 8:00 PM
When you enter the building of the new Woolskins showroom on Derde Looiersdwarsstraat, you are greeted by the smell of lanolin. Inside you will find a variety of ecological wool products for babies and children, made from wool from Europe.
Owner and clothing designer Agata Klimczynska (52) grew up in Poland and moved to Amsterdam in 2012. With just one sheepskin, she founded Woolskins four years later. "After the birth of my child, I realized how limited the supply of sustainable clothes was for children, that could be different."
She got the inspiration for Woolskins from a childhood memory. "My grandmother had wool everywhere in the house. When I stayed with her, I slept every night under a sheepskin and on a woolen pillow. I wanted to give that same warm feeling to every child."
According to Klimczynska, wool is more than just a material that provides us with warmth. "In my showroom I also want to tell people more about all the healthy antibacterial and healing properties of wool."
The Woolskins showroom is mainly about a sustainable shopping experience, where they hope to prevent returns. "The showroom offers people the opportunity to touch the garments, feel the softness of the wool and judge the quality for themselves before purchasing anything on the website."
Handmade baby suits (€99) and comfortable body warmers (from €25) in warm natural tones hang on the clothing racks, made from wooden branches she brought from Poland. You will also find sheepskins specially designed for the stroller (€84).
Derde Looiersdwarsstraat 5h, Center.
Concept
At Woolskins you can place and collect orders.
Not for children
In the showroom you will also find wool yoga mats (€89), nursing pads made of organic merino wool (€14) and hypoallergenic nipple ointment made of lanolin (€12).
Quality mark
All products are handmade from European wool and carry the 'Woolmark' and the 'Safe for Children' quality mark.