Ordered before 12:00, shipped the same day
Free shipping from €80 (NL)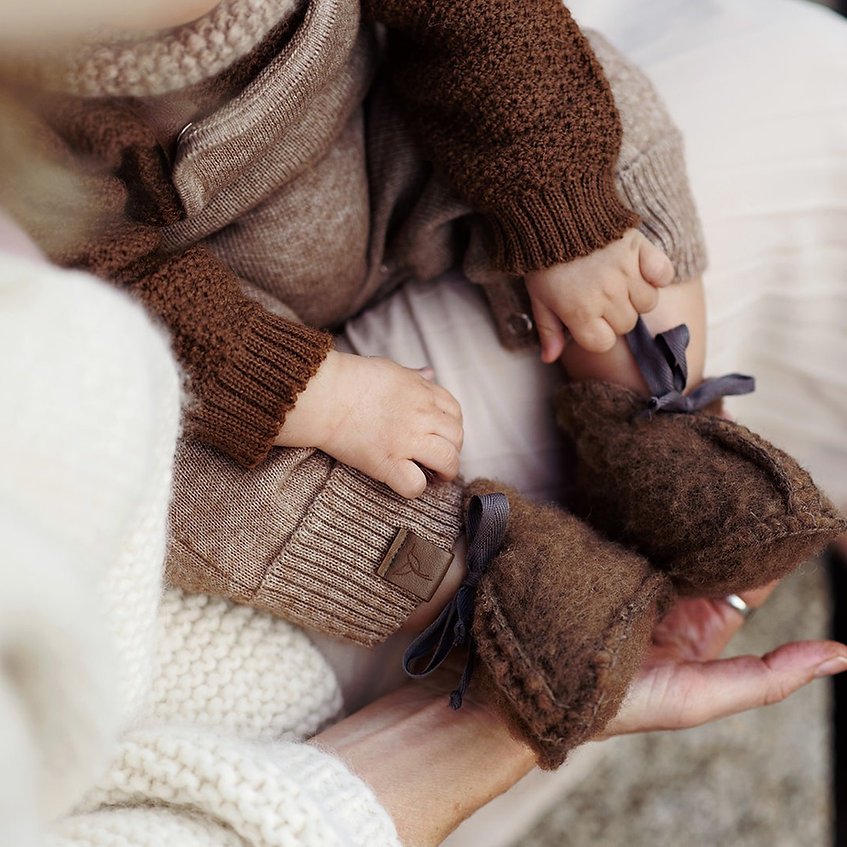 Woolen Baby Slippers & Shoes
Woolen baby shoes for Baby Woolskins - Emo - Felted - Thumbled
Wool Skins Label
After years of successful collaboration with Alwero, we can proudly announce that we now carry our products under our own Woolskins label.
This way you still get the best quality, but combined with the nicest and unique products and designs.
The quality of the fabrics and colors remain as they have always been, but there is now a greater choice that Woolskins believes can distinguish itself.
Our wide collection is composed in such a way that they are a good addition to any baby set, made from 100% European wool that breathes and is suitable for every season.
We join forces with great enthusiasm for a sustainable, natural and as comfortable as possible product for your child.
Wool is a wonderful material to use for baby products. Wool has many benefits for the health and well-being of little ones. In this article I will tell you more about the properties of wool and give you tips for choosing and caring for woolen baby products.
Wool is a natural fiber that comes from sheep, goats, alpacas or other animals. Wool has a unique structure that makes it possible to regulate heat, wick away moisture, repel dirt and kill bacteria. So wool is:
Warm: wool keeps the baby's body temperature constant and prevents hypothermia or overheating. Wool is also suitable for all seasons, because it can both warm and cool.
Breathable: wool allows the baby's skin to breathe and ensures good air circulation. Wool absorbs up to 30% of its own weight in moisture without feeling wet. This keeps the baby dry and comfortable.
Soft: wool is super soft and does not itch. It is therefore ideal for sensitive baby skin. Wool is also elastic and dimensionally stable, so it adapts well to the baby's movements.
Hygienic: wool is naturally antibacterial and antifungal.
Wool contains lanolin, a natural fat that nourishes and protects the skin.
Wool is also self-cleaning and therefore needs to be washed less often.
Wool is therefore a perfect choice for baby products such as clothing, blankets, sleeping bags, cuddly toys and of course booties.
Woolen slippers are a must-have for every baby, because they keep feet warm, soft, dry and healthy. Moreover, they are also very cute!
How do you choose the best wool baby products? If you're looking for wool baby products, there are a few things to look out for:
Quality: choose products made from 100% pure wool or a high percentage of wool. Avoid products containing synthetic materials as they can reduce or destroy the natural properties of wool.
– Origin: choose products that come from animal-friendly and sustainable sources. Look out for quality marks such as Woolmark, GOTS or Oeko-Tex, which guarantee that the wool meets high standards in terms of animal welfare, environment and quality.
– Style: choose products that suit your taste and style. There are many different types of wool, such as merino, alpaca, mohair or cashmere, each of which has its own color, texture and shine. There are also many different designs, patterns and colors to choose from.
How do you care for woolen baby products? Woolen baby products do not require much maintenance, but if you take good care of them, they will last longer and remain more beautiful. Here are a few tips to keep your wool baby products in top condition: