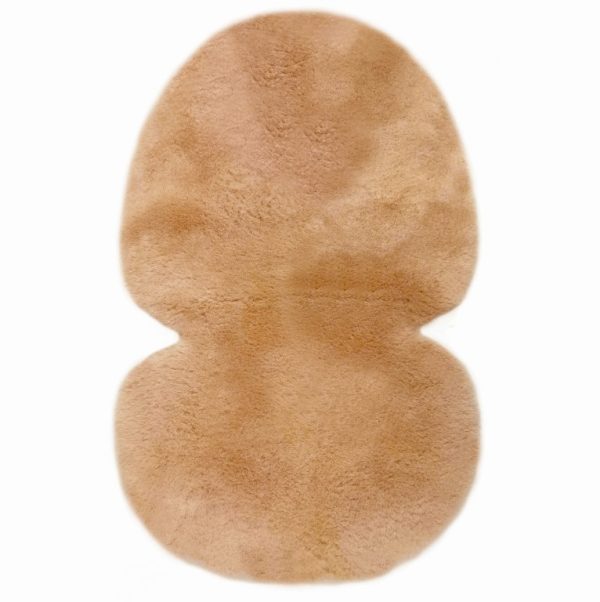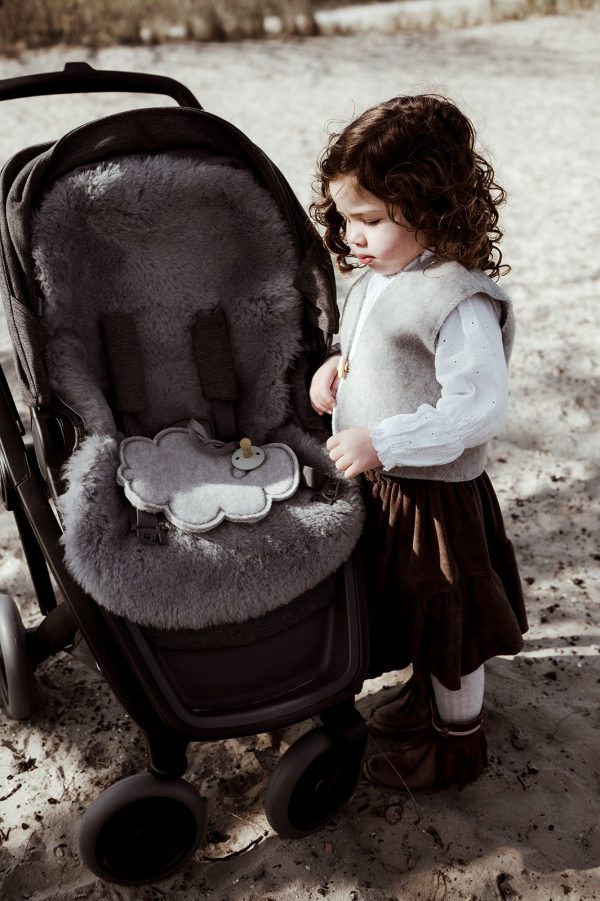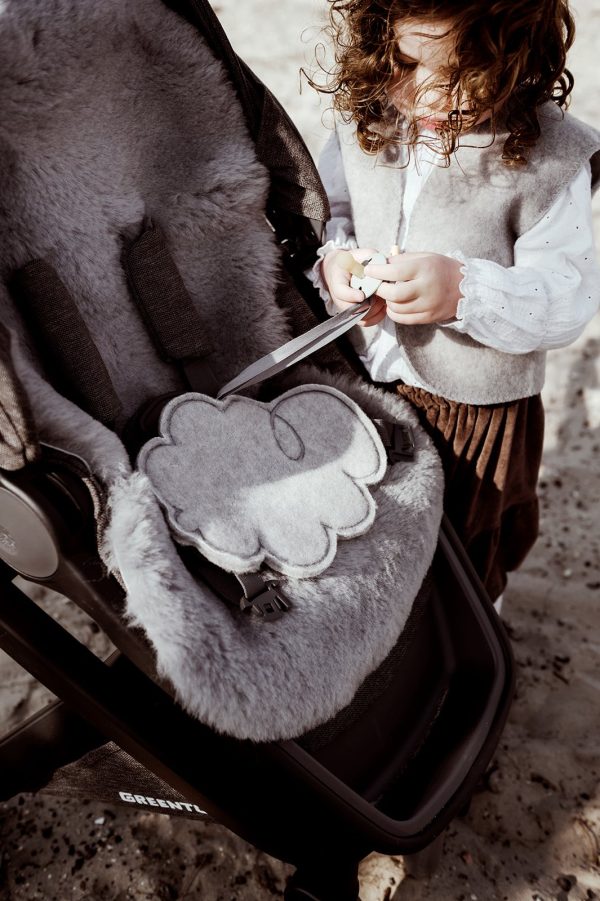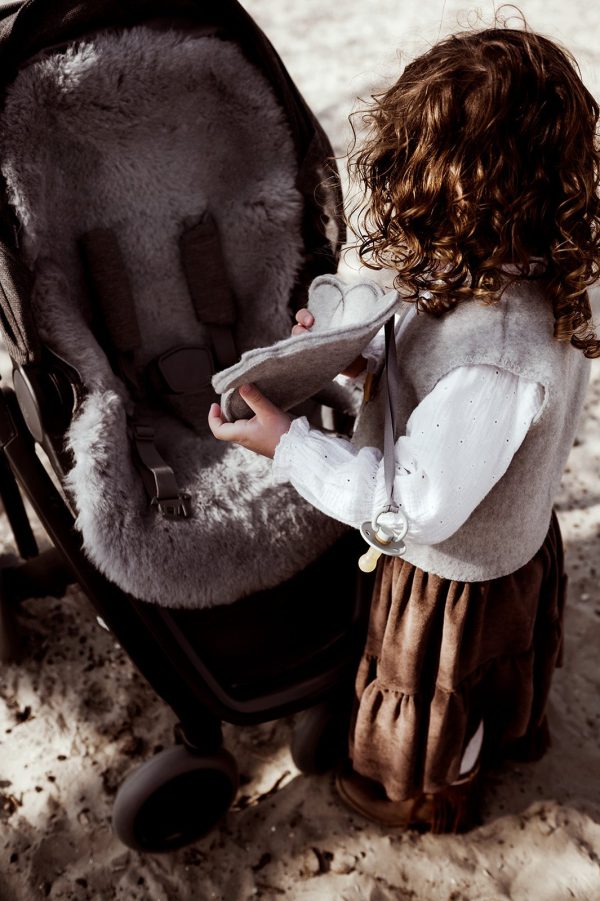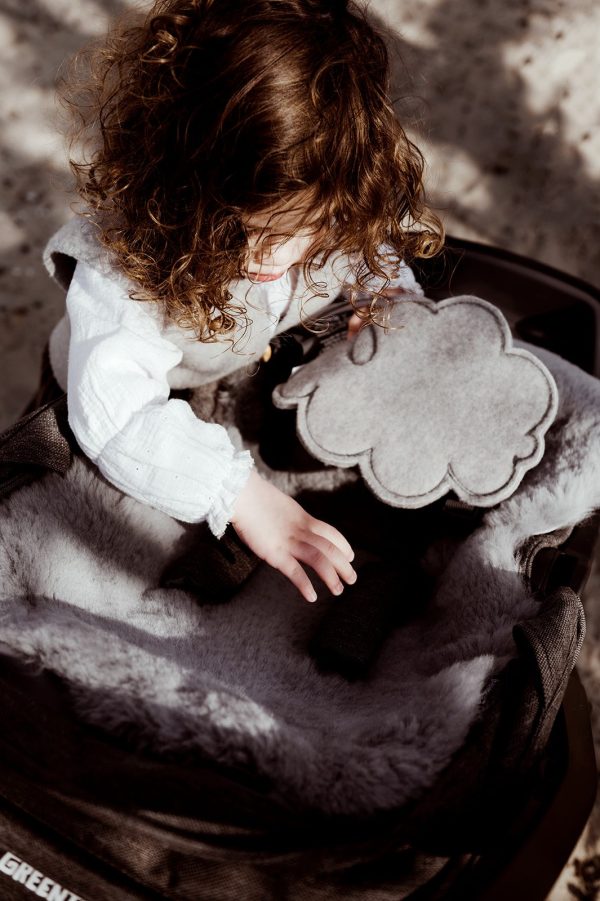 Sheepskin for Pram – Comfort (Nude)
Vanaf: €84,00
Baby-Care Stroller Comfort - Warm Gray
This soft fur fits in the buggy, crib, car seat or Moses basket. It is baby safe due to its short coat and is suitable from birth. (the atmospheric photos with this product are of the 'Comfort Warm Grey')
Description
This Eco Baby-Care sheepbskin is specially cut to size for use in the buggy, cot, car seat or Moses basket. Very comfortable for on the road and at home. Ideal for long holiday trips to warm countries. It is extremely comfortable because it breathes and immediately absorbs the sweat without feeling wet/clammy for your child.
– Dimensions 75 x 45 cm, pile 3 cm.
– Notches for safety belts 3 & 5 point.
– Soft and compact wool.
– NOT – Machine washable & dryable.
– Easy to maintain.
Comfortable travel
Wool fibers breathe and have the property of acting as a natural thermostat regulating body temperature? This helps your baby maintain a stable temperature and keeps your baby dry and comfortable. It does this "dynamically," meaning it happens when it's needed, not when it isn't. Warm in winter and cool in summer.
Woolskins Baby-Care sheepskins have a shorter pile making them baby proof. They are suitable from birth and because they are processed with the environment in mind, they protect both the little ones and the planet. At home or on the road, you create a comfortable environment in which your child feels happy and relaxed. Standard 'gift-ready' packed with personal note.
Features Comfort Sheepskin
This Baby-Care sheepskin comes from the English sheep. It is a colored very soft and nicely compact coat. This Comfort coat is 'the' sheepskin we know from the past, we have only had it shaved to a short length. Very safe. Like all our other coats, wool fibers breathe. This helps your baby maintain a stable temperature and keeps your baby dry and comfortable. Cool in summer and warm in winter.
Eco Friendly
All agents used in tanning and finishing comply with essential EU directives relating to the preservation and protection of the environment.
Our sheepskins are tanned according to the REACH regulations adopted to improve the protection of human health and the environment against the risks that chemicals can pose, while increasing the competitiveness of the EU chemical industry. No AZO dyes are used in the production.
ECO PRODUCTS – Sheepskins are Eco Friendly, their processing and handling are safe for adults and children. Sheepskins are biodegradable, organic.
Woolskins does not sell sheepskins form sheep where Mulesing is applied! In European sheep (in contrast to eg Australian sheep) no mulesing is used because the parasite, which causes farmers to use mulesing, does not occur in Europe.
Tummy sleepers… pay attention!
For safety reasons, babies who sleep on their stomach for the first 12 months should not sleep on anything soft, this can be dangerous. We therefore advise you to use the Woolskins fur wisely! Always pay attention when your child is lying or sleeping on his/her stomach and make sure that your child is always supervised.
Additional information
| | |
| --- | --- |
| Order a maintenance brush? | Yes please +€7.50, No thanks |